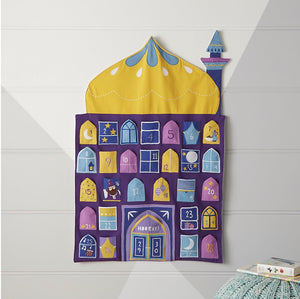 Our iconic mosque shaped Ramadan Calendar debuted in March 2018 at Crate & Kids, making it the first time in American history a major retailer carried children's products for Ramadan. 
A family favorite since its debut!
!!!SHIPPING DELAY!!!
Designed by Hello Holy Days! founder Manal Aman

Durable fabric construction to last through the years (many of our customers are now enjoying the calendar for their 4th year in a row!)

Features embroidered detailing and fabric applique 

3 fabric loops on the back for easy hanging

4" H x 3" W pockets for tucking small toys, treats and messages

One large pocket, 8.5" H x 6.5" W at the end of Ramadan so the calendar works whether the month has 29 days or 30 days in a given year.