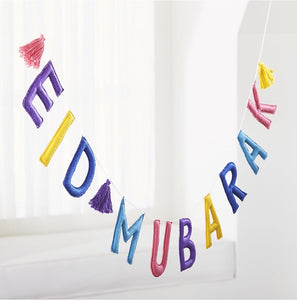 Did you know that Ramadan is not a holiday? Ramadan is an observance. The holiday, Eid al Fitr, comes at the end of Ramadan.
When designing this garland as part of our Ramadan decor collection, we hoped that the act of saving a garland to put out at the end of Ramadan would help children learn to distinguish between Ramadan as the time when we put in our best effort and Eid as the time that we celebrate our hard work!
Designed by Hello Holy Days! founder Manal Aman

Soft, stuffed garland made of cotton

Features fun festive tassels

Pre-attached to cotton string

4ft long 

Comes in a drawstring baggy.